Traditional masterpieces made from Yoshino Sugi and Hinoki
Our main products are high quality chopsticks made from Yoshino Sugi (Red Cedar) and Hinoki (Japanese Cypress). In addition we carry a variety of others,
including disposable chopsticks, as well as foreign made ones.
We also offer paper products for dining, like table napkins, place mats and wet hand towels. We sincerely offer these goods to you along with other Yoshino local specialty products such as Ohitsu (containers for cooked rice) and Masu (square-shaped Sake cups).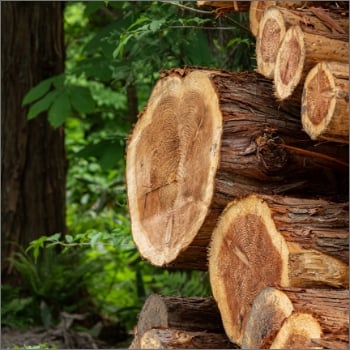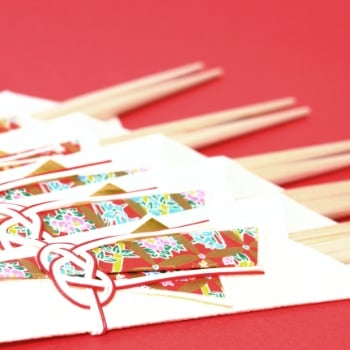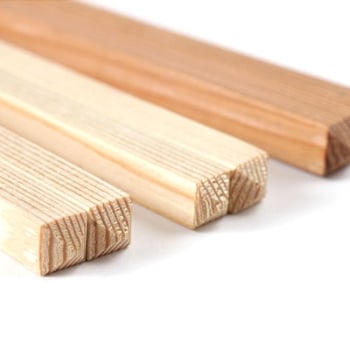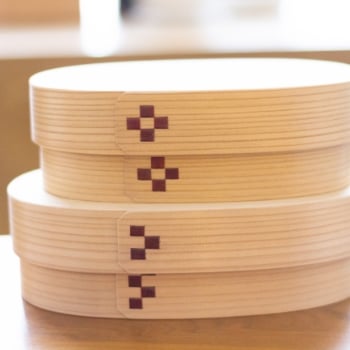 New Collections
We created new product lines with the sense of Wa, Japanese culture, and the allure of Yoshino Sugi.
We now added new products in addition to our chopsticks collections to expand the appeal of Yoshino Sugi.
All new products are designed with the sense of Wa, Japanese Culture, with the allure of Yoshino Sugi.
These new products will be well-fitted to authentic Japanese restaurants and hotels which receive many guests from overseas.
OHITSU, Cooked Rice Container

We liberally use Yoshino Sugi to make our Ohitsu (cooked rice container). As if breathing, Yoshino Sugi Ohitsu absorbs water so as to keep the flavor of the rice, Yuba and Tofu though out the entire dining time.

TEOKE, Single-Handed Pail for Japanese Cuisine

We have made Teoke to add to the elegant presentation of Japanese cuisine. Our Teoke's fine grain patterns and elegant cedar fragrance should accentuate your beautiful presentation of the cuisine.

Ohako, Wooden Box Container

We now have box containers made with Yoshino Sugi by popular demand from our customers. It has a large capacity and can contain 500 sets of authentic chopsticks. In addition to the chopsticks, it is also suitable as storage for any items you like.
Our Quality Chopsticks
Our chopsticks are the best to enjoy cuisine and the traditional atmosphere at authentic Japanese restaurants, Japanese inns, hotels and wedding receptions.
RIKYU Chopsticks (RANCHU)

Yoshino Sugi Rikyu chopsticks are sophisticated chopsticks with elegantly tapered ends. Rikyu chopsticks are named after Sen no Rikyu, a respected tea master in the 16th century, who created these chopsticks.It was said that he carved every single Yoshino Sugi chopstick in the morning before receiving guests. He treated his guests with the fresh and rich aroma from the chopsticks he had freshly carved.His guests were touched by his spirit of hospitality. His spirit is still alive today in Rikyu chopsticks and they are the preferred chopsticks at authentic Japanese restaurants which respect Rikyu's spirit of hospitality.

TENSOGE Chopsticks

TENSOGE Chopsticks have a steep slant at the head and a smooth squared tip.It has a wider head and tapered tip, and the straight grain of cedar adds a nice accent.

KAKU Chopsticks(SEKISHU)

Kaku Chopsticks are the square-shaped chopsticks and have a unique square pyramid-like design at the head.

MARU Chopsticks

Maru Chopsticks are beautiful chopsticks with an elegant rounded head and tapered roundly toward the tip.

GOKAKU Chopsticks

Gokaku Chopsticks are the chopsticks of skillful work with a pentagon-shaped form and tapered to a point at the tip.

d>
Commercial Grade Splittable Chopsticks
We can produce chopsticks based on your request of shape, hold-feeling and business type.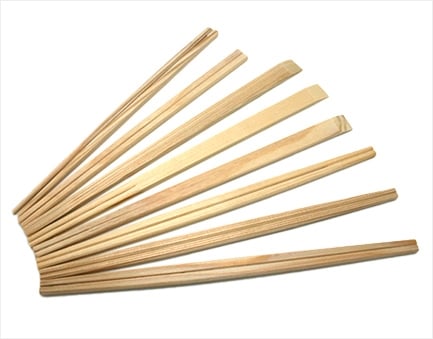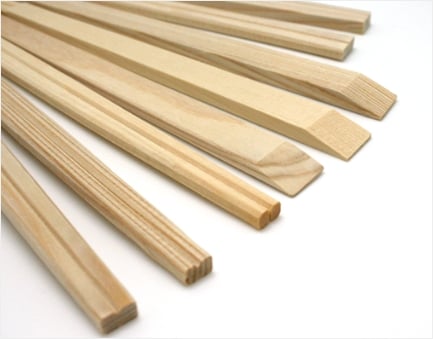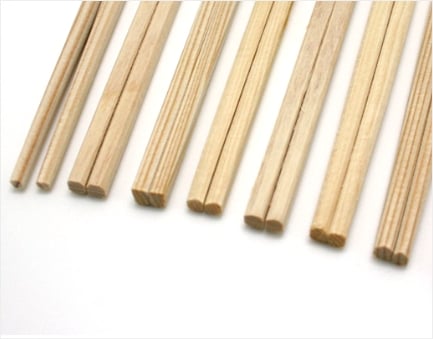 IWAI Chopsticks
We have a collection of the chopsticks for New Year's Celebrations, wedding receptions,
and special festive occasions.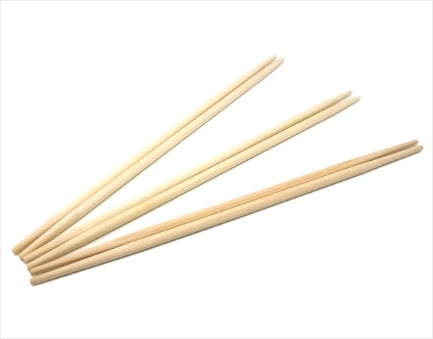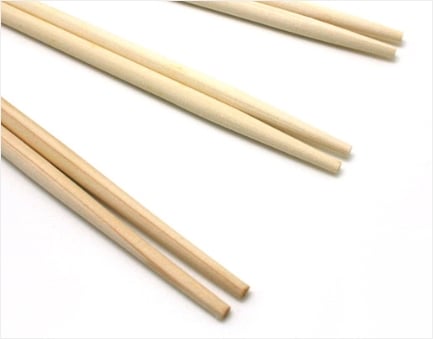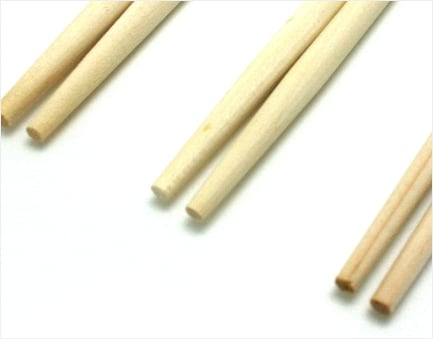 OBIMAKI Chopsticks
Obimaki Chopsticks are the best for wedding reception because they are not "splittable", the word to avoid in front of a marrying couple.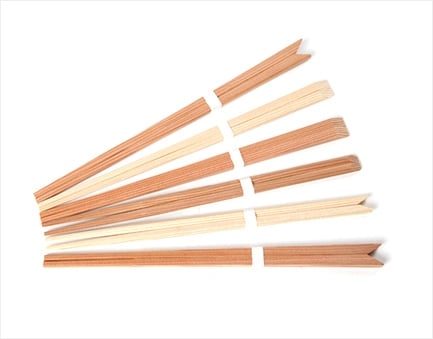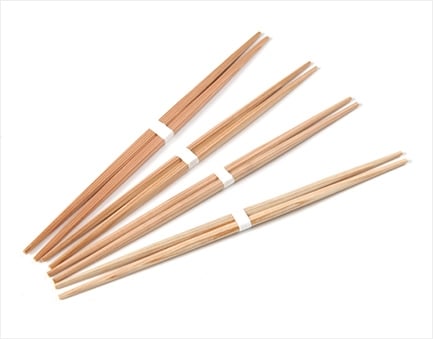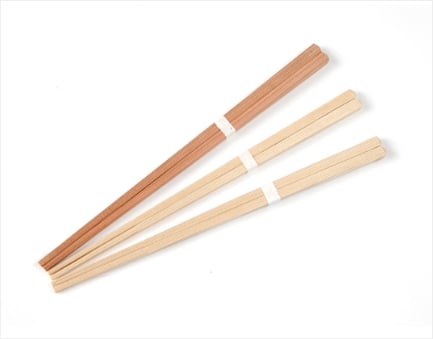 Branding with a Hot Iron and Printing on Chopsticks
Branding names and crests by hot iron adds elegant accents to chopsticks, and printing on chopsticks gives a unique design to them.
You can accentuate your tables at special occasions and differentiate your venues with unique branding and printing on the chopsticks.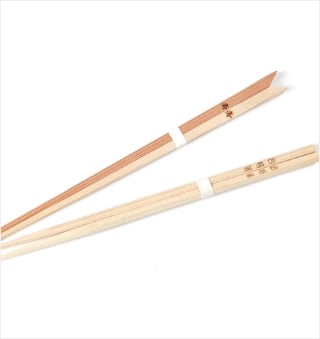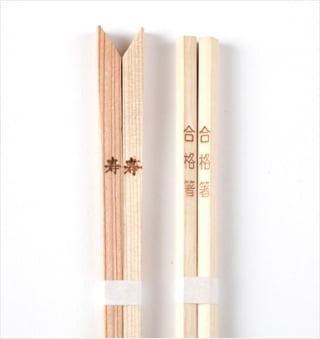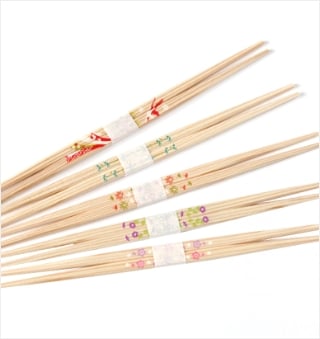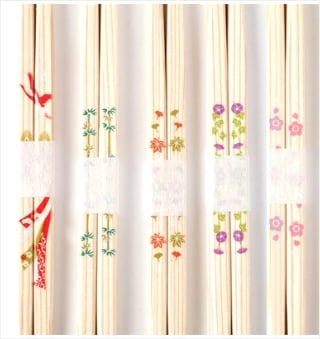 Color Paper Wrappers for Chopsticks
Give further uniqueness to your chopsticks through a wrapper. Display your shop's name or advertisement.
Paper wrappers offered by Waribashi Donya Sakaguchi Shoten are unique in that they are one of a kind.
We can produce paper wrappers for your chopsticks according to any size, or color to match any image that you would like. Please feel free to consult with us.
Size and Style

When it comes to size and style we can show a clear difference between a readymade item and a unique one. Not just for food, but take the table setting into consideration.

Paper Quality

The image of a restaurant can increase just by the high quality, style and the unique texture of the chopstick's wrapper.

Print and Color

A chopstick wrapper with a rich design can make the food itself even more appealing. We also recommend displaying the changing of seasons with chopstick wrappers.
Download our "Wrapper Catalogues"
You can see more about our collections in our catalogues!
※Download our catalogues below. The catalogues show just some samples. Please send an inquiry for details or to make an order.
Wooden Box
A wooden box that warms you with the aroma of Cedar trees.
This is a high quality wooden box made from the fragrant YOSHINO Red Cedar tree. The price is also attractive.
Please send an inquiry regarding size, price and any other questions.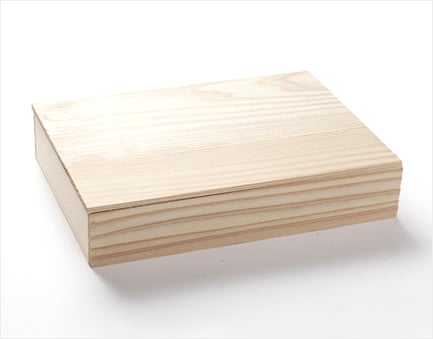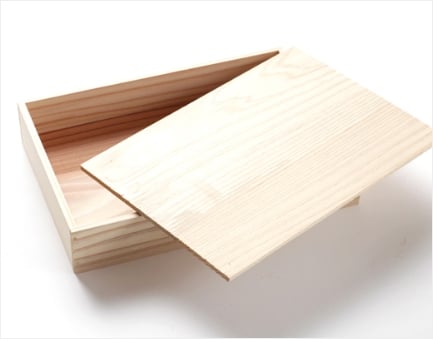 MASU, Square sake cup
Our Masu fits well in your hands, with natural characteristics of the Cedar trees.
Other
You can experience the warmth of the Cedar trees through many of our products.
Antibacterial Wood Box for Raw Fish
This wooden box is made from Yoshino Hinoki and is manufactured to be antibacterial. The box is made to keep raw fish that is used in sushi from spoiling quickly. This makes it suitable for restaurants or for display. We also take custom size orders.
The picture shows 8 separate trays that are lined in two layers, but you can remove these to store one fish by itself. The box can be used according to your wishes.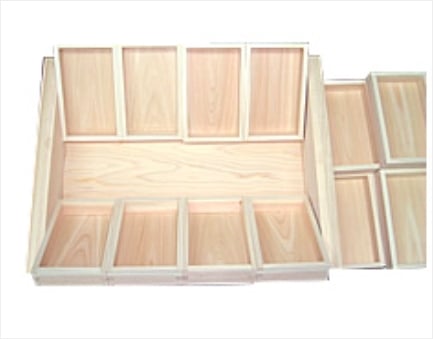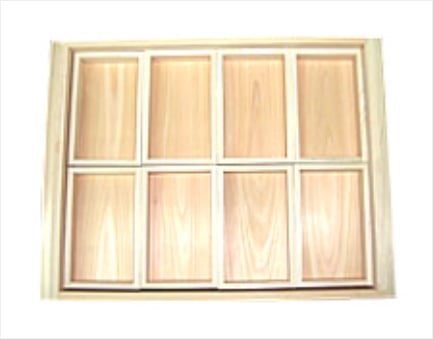 Chopstick Sets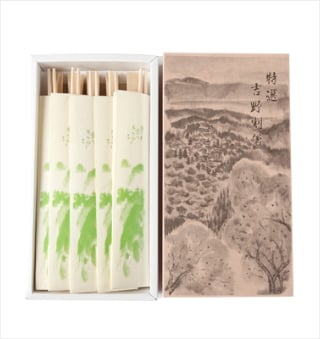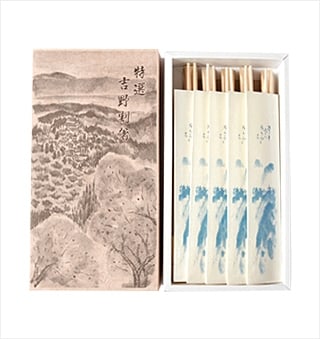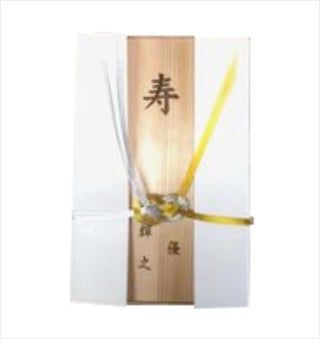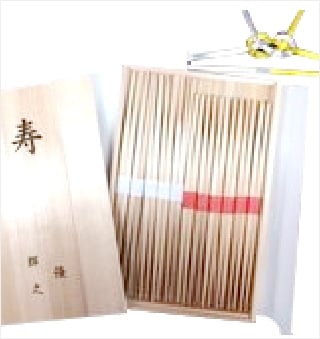 These are Yoshino Sugi Chopstick sets, sized 26cm and 24cm.
he red and white banded 22 chopsticks sets make a great wedding present.